NU21 is a photo exhibition for vocational education students in the Nordic countries. The NU exhibitions have been held yearly since 2017 by Yrkesinstitutet Prakticum in Helsinki (www.prakticum.fi).
The aim of the exhibition is to develop photo education in the Nordic countries and give students and schools a platform to get visibility and promote themselves. This year's theme is DISTANCE (& CLOSENESS). The photographs will be displayed digitally on a webpage and in print in an exhibition in Helsinki, Finland.
Exhibition at LUCKAN 4.3.-31.3.2021
https://helsingfors.luckan.fi/
https://helsingfors.luckan.fi/en/
How Far is Away?
by A. D. Coleman
I write this in early February from my New York City home, far from Finland and Sweden. Yet I have lectured, taught, and published in both countries since the early 1990s, concentrating on the photography scenes in both countries. And this is the fourth time I have introduced this unique NU collaborative project, one of the ways in which I keep current with the zeitgeist of emerging photographers there.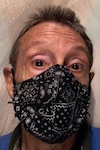 This moment marks almost exactly a year since bits of news about a deadly virus with origins in China began to surface and circulate. Few of us could have imagined the toll it would take: the millions of lives we would lose to it, the devastating effect it would have on the world economically, the tragic consequences of its politicization, the countless ways — large and small — in which it has transformed daily life globally.
Certainly we must count its effect on interpersonal relationships — not just professional and social but familial and intimate — as part of the price we must all pay to get through this and come out the other side. The coronavirus pandemic makes each one of us potentially dangerous to anyone with whom we come in contact, however briefly. And vice versa. That means any encounter with another human being — stranger, friend, relative, lover — involves the risk of death. In the most literal sense, we must keep our distance from each other in order to survive.
This experience will mark us all, but will have its most shaping effect on the young. How will it define their perceptions of the world in general and their engagement with others from now on? If this small selection of visual responses to the theme of distance and closeness reflects the larger cohort to which they belong, that impact will prove deep and lasting.
The eight participants (half from Finland, half from Sweden) range in age from late teens well into adulthood. Regardless of age, they speak through photography at a most peculiar moment in 21st-century history. What do their pictures tell us? Several of them — Vera Orsa, Maj Tillman, and Kim Warren — propose that a renewed and even intimate engagement with the natural world can provide spiritual nourishment. The self-portraits of Madelene Boehm and Sara Lindborg, on the other hand, suggest isolation and alienation. So do the images of electric lights by Max Jacobsen, though the fact that they illuminate darknesses provide some sense of hope. Camilla Kjellberg's photographs include other human beings, yet their tone suggest mourning and loss. Only Benjamin Rosenlund, in his playful images of a young woman, tacitly proposes that normal interpersonal relationships persist and may survive this plague.
Let their sober assessment of our situation inspire those of us who are older to redouble our efforts to bequeath them a world in much better condition than the one that confronts them now.
Bio note:
Based in New York, A. D. Coleman currently celebrates his 53rd year as a critic, historian, and theorist of photography and photo-based art. His blog, Photocritic International, appears online at photocritic.com.
© Copyright 2021 by A. D. Coleman. All rights reserved. By permission of the author and Image/World Syndication Services, [email protected].

Benjamin Rosenlund
I paint because I can't write… my dear friend pointed out, and I think that is a good attitude. I do not feel that it is necessary to write about my work since I took the photos by themselves, not intending for them to lean on any words or phrases etc.
I think that the artist has a responsibility to present work that challenges the audience; I think that when art is explained it loses its value in the eye of the beholder and might as well be called a soulless product.
I doubt my art is thought-provoking, but I follow my principles anyway.
Camilla Kjellberg
I'm someone who is still figuring out what they want in life. While trying to figure this out I found interest in photography. I live with my family in the center of a small town in Sweden. My name is Camilla Kjellberg. I'm 17 and I have recently found out that photos are a good way of expressing your feelings, and that's something i've enjoyed working with. I interpret the theme Distance and Closeness like you had someone dear that passed away and you had to let go of something important.
Kim Warren
Hi, I'm Kim Warren and I study photography at LBS Kreativa Gymnasium Göteborg. I'm 17 years old and as a photographer I want to improve my technique and creativity whilst also creating more opportunities for myself to work with photography, so that I can express myself more and better through my work. I think my photo series speaks quite a lot for itself. It captures a feeling of distance, but it also puts a slight focus on nature and the distance that I feel we as humans have taken farther from it, wanting to bring it closer to us again.
Madelene Boehm
I always wanted to make photography as easy as possible. Before, I was looking at photographs with one-dimensional thoughts, like watching a painting of just black and grey fields. Lately this has changed. My name is Madde, I am 17 years old. While making this project, I decided to interpret the theme in three different ways: time, space and distance. Each photograph is different but they still fit with one another. Today I can see the story behind the arts. The brushstrokes on a painting are clearer than before, you learn how to appreciate the details.
Maj Tillman
I have studied in the field of Applied Arts (interior crafts) for three years.
Nature is very important to me and my work. Nature is often my inspiration. The forms and colours, the light and feeling from nature I use in my different projects.
My photographs have reflected the past year, the year 2020, when we have had to keep distance from each other and longed for closeness.
Despite the past year and our regulations, the fact that we have had the possibility to walk in nature shows the existence of persistence and at the same time a movement forward towards new opportunities is also created.
In the distance you can find space for thoughts, for new creative solutions and angles for new creation. It gives a sense of opportunity ahead and positive belief in the future. That faith reduces the distance and brings us closer together.
Max Jacobsen
I am Max Jacobsen, a photography student from Gothenburg. I like to experiment with photography to try and capture different emotions.
In my project I tried to capture the feelings of closeness and distance by using different lighting. I used warm lights in a welcoming and atmospheric way to capture the feeling of closeness. The colder picture symbolises a cold winter afternoon, which makes you want to distance yourself from it.
I think it's important in these times to remind yourself of the warmth of friends and family, it's important to stay connected while keeping a distance.
Sara Lindborg
My name is Sara Lindborg, and I am currently studying graphic design at Prakticum in southern Finland. I am 25 years of age, and I am really interested in the art of photography. My passion for photography is the main reason I joined NU21, and these three photographs I took – stand by the quote "Distance and Closeness". The meaning behind the two first pictures is that the person in
the photos is present physically while daydreaming, maybe looking into the future or perhaps the past. The picture with the shadows is meant to create a feeling of horror – the person is followed by her own shadows, trapped.
For more content, follow https://saramarialindborg.wordpress.com/
Vera Orsa
Hello there! I'm Vera, a 17- year-old Swedish speaking Finn from Porvoo, Finland. I've been photographing seriously for about a year.
Commercial and nature photography are my favorite types of photography.
Graphic design and entrepreneurship are also big interests of mine. I'm the co-founder of a digital marketing agency where I'm responsible for the visual identity of the companies we work with.
In the future, I'd like to work as a commercial photographer and run my own design agency.
Instagram @veraorsa
CREDITS:
Sweden:
Media Teacher: Sara Samuelsson
SE Students:
Madelene Boehm
Max Jacobsen
Camilla Kjellberg
Kim Warren
FINLAND
Media Teacher: Nina Sederholm
FI Students
Sara Lindborg
Benjamin Rosenlund
Maj Tillman
Vera Örså
This Website has been produced by:
Filip Snellman with the help of
Media Teacher Karl Hamberg